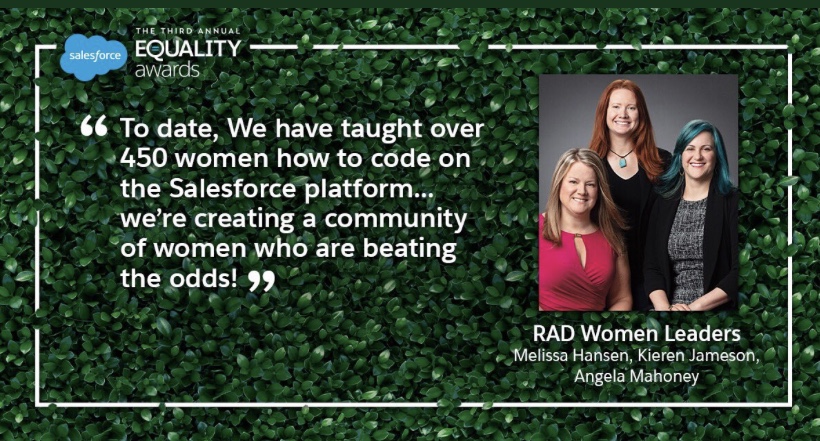 On May 16, 2019, Salesforce's Office of Equality held a celebration to recognize leaders who are committed to achieving #EqualityForAll. It was with profound gratitude that RAD Women leadership was honored with an Equality Award in recognition of our work to close the gender gap through our courses which teach women how to code for the Salesforce platform.
While Angela Mahoney, Melissa Hansen, and Kieren Jameson accepted the award, it was the hard work, volunteerism, and passion of our 50+ coach mentors that we celebrated. The idea behind RAD women and our vision wouldn't be possible without each of our coach mentors, who are the heart of our program. To date, they've taught over 450 women around the world how to code and have volunteered over 4,000 hours.
Our learners, who invest in themselves to forward their careers, were with us in spirit. They show up, learn challenging skills, and change the way businesses solve real problems. They're the new face of our future developers.
RAD Women and the Trailblazer Community creates new opportunities for under-represented minority groups. RAD Women helps build confidence and offers new pathways for women in tech. We don't do this alone. Thank you to all our supporters, especially Salesforce for providing us with the platform, learning tools such as Trailhead, and the Trailblazer Community to help us reshape what being a woman in tech and a woman who codes can be.